Jessica Kepchar, D.O.
Otolaryngologist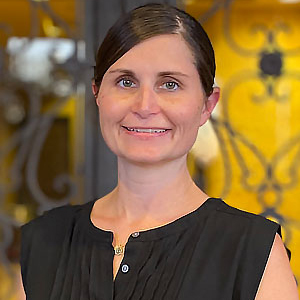 Dr. Kepchar is a Pennsylvania-native who completed her undergraduate degree in Biological Sciences from the University of Delaware, where she was a 4-year Army ROTC Scholarship awardee. She graduated second in her class from the Philadelphia College of Osteopathic Medicine and went on to complete her residency in Otolaryngology-Head and Neck Surgery from Walter Reed National Military Medical Center. Her 12 year active duty Army career took her first to Ft. Polk, Louisiana where she served as the lone Otolaryngology provider for soldiers and their families for 2 years. Her efforts were rewarded with a core faculty position at the Brooke Army Medical Center where she enjoyed educating the next generation of Otolaryngologists as the associate program director of the residency program and as the chief of the department of Otolaryngology for six years.
A board-certified Otolaryngologist, Dr. Kepchar is a true comprehensive provider who enjoys caring for all ages and ranges of ear, nose and throat ailments. Dr. Kepchar is also focused on sleep apnea for our patients. She and her family of five are thrilled to permanently call San Antonio home.
Our staff is available to take your calls Monday through Friday from 8:00am – 5:00pm.
You are also welcome to drop in to set up an appointment during normal office hours. To schedule an initial appointment with one of our audiologists, you may give us a call directly at
(210) 696-4327 (HEAR)
. We look forward to hearing from you! "
Better HEARing for a better life.
"